3 Strategies to Reach Local Shoppers in Your Area
Being a small business is already tough, but when you're a local business it's that's even tougher. Local businesses rely on local customers, so getting a call from Arkansas when you only do business in New York City doesn't help. In some cases it can even hurt: imagine getting dozens of calls from people all over the world and not being able to turn them into customers. Wastes your time and their time, and can cost you money.
You have to know and understand how to reach local shoppers, be it your immediate neighborhood or the city. That's why Yellow Pages, billboards, local newspapers and magazines, and other local advertising is still so popular among local businesses. But, it doesn't always yield the return on what you paid for it – not that you can even measure that return accurately.
Let's look at 3 strategies to help you reach local shoppers, either getting leads or foot traffic.
Strategy 1: Understand Where to Reach Your Target Local Shoppers
One of the biggest mistakes small businesses make is taking a "shower" approach to buying advertising and/or running a marketing campaign. This means you buy advertising where a lot of people go and you shower them with your advertising or marketing campaign. New York City's subway advertising is a perfect example. Simply because the general public uses public transportation doesn't mean it is effective or they care about it.
Recently, Seamless.com ran an ad on the subway here in NYC that really said everything there is to say about subway advertising. It said, "It's easy. Like looking at this ad to avoid awkward eye contact."
A better approach is the fire hose approach, and only spray your advertising and marketing where it really matters, where your target market hangs out (so to speak).
If your local customers tend to be in a specific age group, here's what research says about how they find information when they do local shopping.
Newspapers are a very popular form of advertising, yet if you look at the data only local shoppers aged 55 and above would care to look at the newspaper when shopping local. Unless you're selling directly to them, you might want to reconsider next time you think about newspaper advertising (sorry newspapers).
"Generation X — those between 35-54 — report that among types of local businesses, they rely heavily on social media for restaurant choices, but trust family and friends most for local shopping decisions," writes Meshach Cisero on BIA/Kelsey blog. "They also reported online search as their number one source for information on local shopping."
Use this data to help you make better and informed decisions the next time you decide to run an advertising campaign or a marketing campaign. You can see now why having a website and search engine optimization is such an important part of your marketing — the majority of your possible customers use it. So you need to be there.

Key Takeaway
Next time you plan to run an advertising campaign or a marketing campaign, take a moment to understand who you're targeting and where is the best place to reach that specific target market. Don't be afraid to segment your customers in smaller groups. The more targeted your campaign is, the better the return will be.
Strategy 2: Get Found Online with Local Content
You should already know about the importance of blogging (and producing other content). But you also need to make sure that your content is local, as that helps search engines position your content in search results that are relevant to local searchers.
90% of consumers use search engines when researching products or services in their local area.
90% of consumers use search engines when researching products or services in their local area, according to BIA/Kelsey. That's enormous. It's not 2005: You have to be in search results, and Google is making it easier with changes they constantly implement for good, relevant content to be shown to searchers. Just because you don't have a huge budget doesn't mean you can't rank well for your local keywords. A little effort and elbow grease go a long way. Don't do spammy SEO firms please. They will only hurt you, and we've seen it happen.
A 2011 study by Google showed that 88% of consumers who search for a type of local business on a mobile device take action within a day. They either call or go visit your business. It kills me that 58% of small businesses in the U.S. still don't have a website (Google/IPSOS, October 2013). It's a huge opportunity that your competitors are benefiting from, yet you're left in the dark wondering why nobody is calling or walking into your door.
Key Takeaway
If you're reading this, you most likely have a website already (get one if you don't!). To reach local shoppers, make sure to write locally relevant content on your blog. For example, instead of writing about "10 Tips to Clean Your House Quickly," make it locally relevant: "10 Tips to Clean Your Brooklyn House Quickly." That's just an example. If you mention clients or customers, make sure to say "Brooklyn clients" or "Brooklyn customers." Help search engines understand where you are. But don't be spammy, keep it natural.
Strategy 3: Sponsor A Local Meetup
Word of mouth is still one of the best ways to reach local shoppers. There are thousands of meetups. Hundreds in your local area. Find meetups that are relevant to your niche or have your customers as members based on the interests of the meetup.
You might make some money on the group members buying from you, but what you're really after is word of mouth, having members mention you to their friends, family, and other community members. Here's what the data says.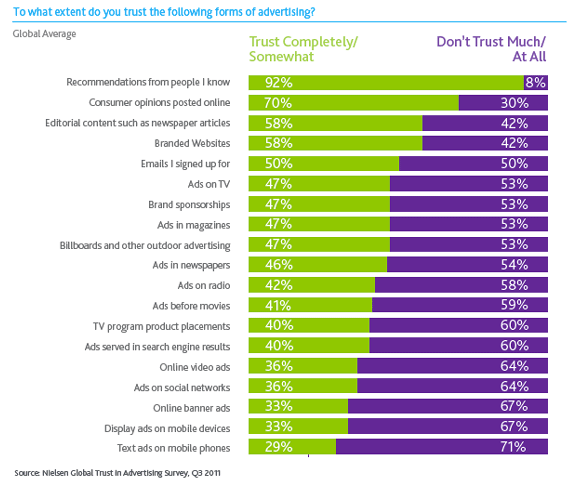 Do you see what's at the top?
92% of consumers trust recommendations from people they know. That's word of mouth. That's what you're looking to capitalize on when you sponsor a meetup. If your business can host a meetup that's better than a simple sponsorship badge or ad on meetup.com. That way when the event takes place, you can always give out special coupons for the members as well as a few for their friends. You want it to be something tangible, something they can remember. Nobody remembers sponsors for that charity run that had their logo on the banner, but everyone will remember that free T-shirt or the free tote bag they got.
Key Takeaway
Try sponsoring a meetup group that's relevant to your niche and/or has your target customers. Ideally, you want to sponsor the event at your location and give away something tangible they can keep and remember you BY. You're trying to capitalize on word of mouth, not members directly, although they will buy from you, too.
These are your 3 strategies to get local shoppers. Do you have any strategies that worked for your business? Or maybe additional tips to these strategies?
Photo courtesy of Department for Communities and Local Government