Google My Business Guide for Local Businesses
Goolge introduced a new way of managing your business on Google. Over the last few years it's been a nightmare to manage business information on Google and stay updated on the changes. Everything was disconnected, from local listings to Google+ Pages for Business.
Google My Business aims to unify all properties to allow business owners to manage their information from one place "My Business" dashboard.
Use Google My Business to put the right info about your business on Search, Maps and Google+ so that customers can get in touch.

How It Affects Your Business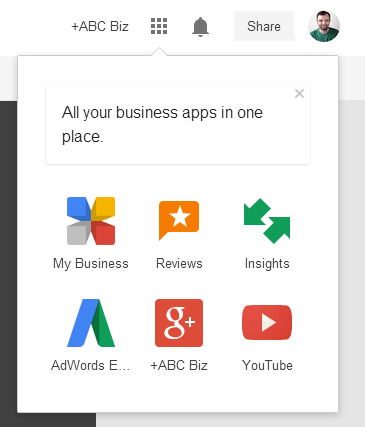 Frankly, there are not a lot of changes. If you already had Google+ Page for Business, including local listing then Google already upgraded you to Google My Business. The big change is addition and unification of everything under one dashboard (See image on the right).
As you can see. When you visit your business page, you are now given a new menu specific to your business needs. It includes:
My Business – main dashboard where you can see your business information and other statistics.
Reviews – this allows you to see all your business reviews left by customers, including ability to reply to review easily, as well as see basic review analytics.
Insights – this is analytics Google collects from their properties for your business, including impressions, clicks, reviews, etc. Gives you a better glimpse into how customers are interacting and finding you.
AdWords Express – this takes you to AdWords website in case you want to run AdWords campaign to promote your business.
Google+ – this simply takes you back to your Google+ business page.
YouTube – this option takes you to YouTube.
The main new features added are My Business, Reviews, and Insights. They are part of this new upgrade, and allow you to get a better understanding of what is happening on Google with your business and manage information about your business in an easier manner than ever before.
My Business Dashboard
Here's what the new My Business dashboard looks like. It offers you a quick glance at your business on Google, including ways to update the information.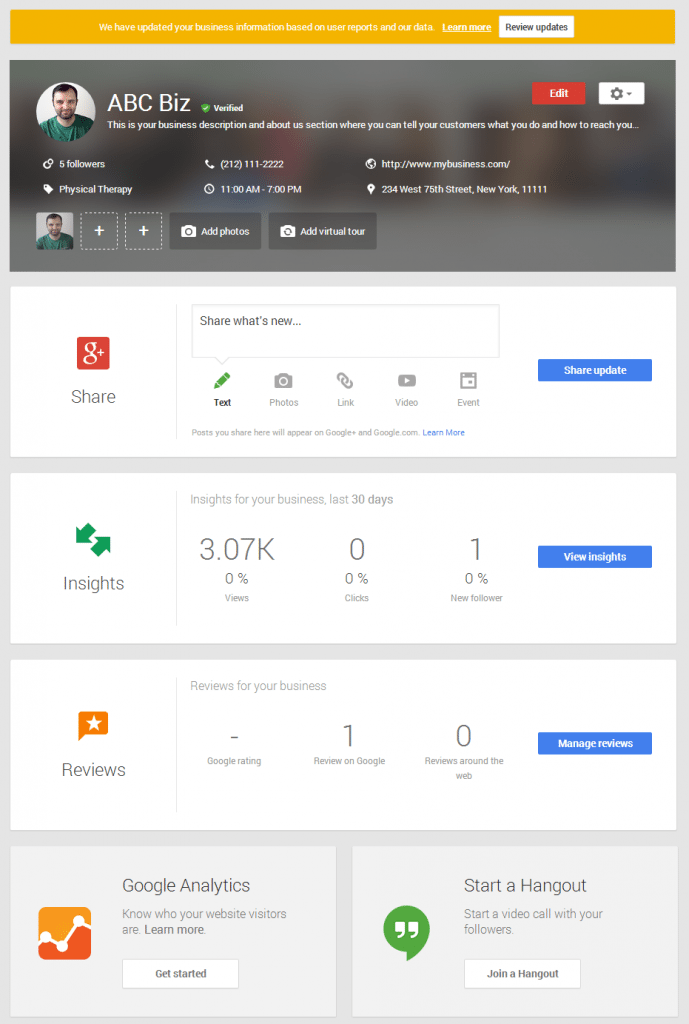 As you can see, Google is trying to make it simple and easy to understand. It gives you an easy option to create an update (althought we love using Hootsuite to manage Google+ updates for business pages) for your page, as well as a quick overview of page analytics and business reviews.

To Do
Click on the "Review Updates" button at the top organge bar and review your business information. Make sure everything is accurate. Everything! Don't just skim it. One wrong digit in your phone number and you have no leads calling. Take 5 minutes to review it.
Insights Dashboard
The new insights dashboard offers some really good insights into how your business performas on Google. Including visibility (you show up in results), engagement (customers interact with your business), and audience (basic data on people looking at your business).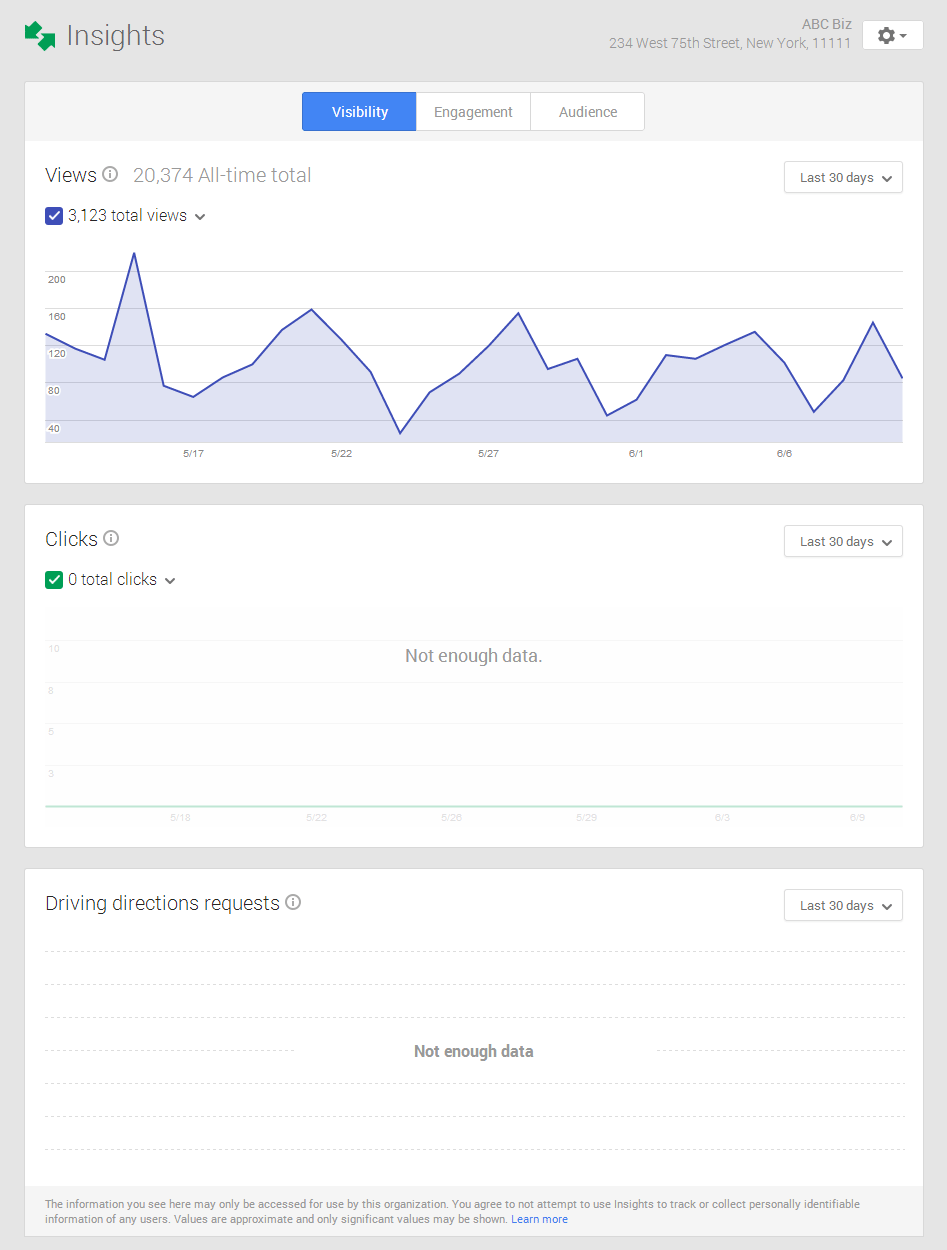 Let me quickly demystify views and clicks, which are also show on your My Business dashboard. This way you'll know exactly what you're looking at. The last graph "Driving directions requests" is self-explanatory.
Views – views graph (and data) show how many times your business and its content were viewed. Values are approximate and only significant values may be shown.
Clicks – this graph (and data) represent clicks for driving directions or to your website from local search results. Values are approximate and only significant values may be shown.
Use this data wisely. If you see that your business shows up a lot (views) and getting clicks, but you're not getting that business you need to figure out where they drop off. Maybe your website needs a conversion optimization to capture more of that traffic sent by Google.
90% of consumers use search engines when researching products or services in their local area, according to BIA/Kelsey.
You want to make sure you not only show up in search results, but people visiting your website and Google+ page convert to leads by either calling, emailing, or walking into your business. Google has given you data to better understand how you're performing, take advantage of it.
Enagament and Audience tabs (not shown in the screenshot above) look similar to the main Visibility tab. They simply display different information.
Engagement Tab
This tab consists of 3 graphs that show you how users are engaging with your content on Google.
Actions on posts – c

omments, shares and +1s on your posts.

Recent posts – shows a list of recent posts, including actions and views for each.
Average actions by post type – breaks down data by text and others, link, photo and video.
That's it for engagement tab. Just basic actions and views for your content, which you should be posting to get more customers to engage and make that phone ringing!
Audience Tab
This is pretty sweet and very simple. It gives you a basic understanding of people that interact with your business on Google, in one way or another. Gender and age is really cool because it tells you what type of potential customers are finding you and interacting with you.
Followers – this is people who followed your business
Followers by country – followers broken down by country (I wish Google was a bit more specific for local businesses and broke it down further into cities and neighborhoods, wishful thinking)
Gender and age – this gives you break down of your potential customers by gender and age. Once you start collecting this data and it shows up in a nice pretty graph, take advantage of it to help create your content that is specific to those audience segments to attract even more.
That's about it for the Insights dashboard. Take advantage of the data Google is giving you, it will help you grow your business and attract more local shoppers.
Reviews Dashboard
The last dashboard I'll cover is reviews. The reviews dashboard gives an easy way to manage and reply to business reviews left by your customers. It features an Inbox where you can see reviews and reply to them. Plus, an analytics tab to give you a better overview of business reviews on Google, which includes web reviews from other sources Google found for your business.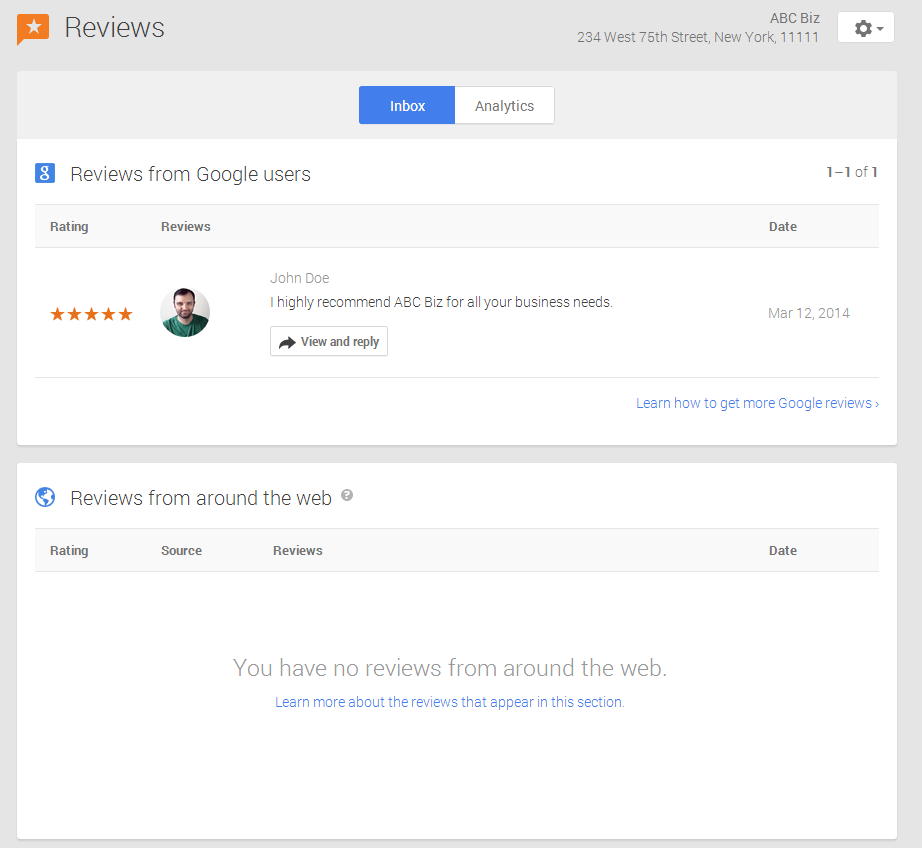 As you can see from the screenshot, you have an easy way to see and reply to your reviews. Quick note on the reviews from the web. Keep an eye on these reviews if they show up. It's not exact science, so you can get reviews that are not relevant to your business.
"Google displays snippets of reviews that are relevant to your business in 'Reviews from around the web' section. This will help you, the business owner, find out what review sites there are on the web that are relevant to your business. Google translates these reviews to Google's five star scoring system," according to Google.
With 70% of consumers trusting online reviews and opinions, taking full control of your business reputation on Google is crucial to your success. Including all other review and listing websites.

To Do
Make sure you don't abandon your reviews. You must reply to all reviews, negative and positive. Build community, show you care to say thank you or deal with a negative experience to correct the issue. 95% of unhappy customers say they will return if the issue is resolved quickly and efficiently (source). Don't abandon your reviews.
Google My Business App for Android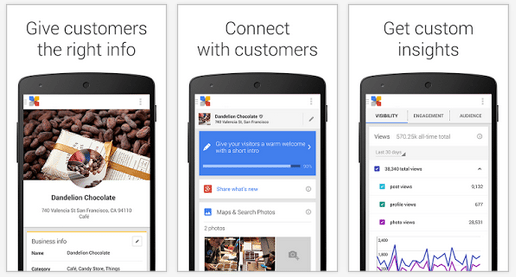 In addition to giving you a better, unified place to manage your business on Google properties they also created an Android app to allow you to manage it on the go. On your phone, simply search for "Google My Business" inside Play Store to download it. There doesn't seem to be an iPhone app (yet).
With the Android app, you should be able to:
 Update your business info on Search, Maps and more
Share news, updates and photos on your Google+ page
Get custom insights, such as how many times you show up on Google
Now you shouldn't have any excuses to procrastinate posting an update, image or something else.
In Summary
Google My Business should allow you to manage your business across Google+, search and maps from one dashboard with analytics to help you understand what is happening. It's about time for Google to roll this out. Take advantage of what Google is offering your business to help you generare more foot traffic, leads and sales!
That about does it for this guide on Google My Business. For more information and to get answers to frequently asked questions, visit Google My Business Help Center.
If you have any questions, do leave a comment.